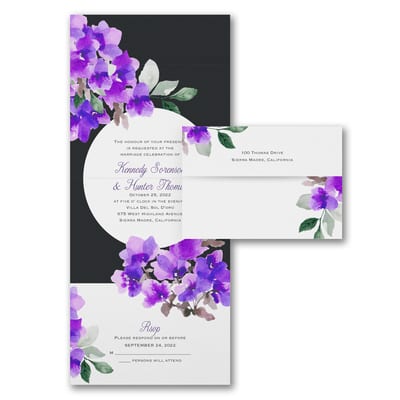 Most clients have no idea of the cost of an invitation, and are generally coming to us at the end of the planning process. This is normal. The most popular question we get at the start of any discussion on invitations is "How much do they cost?" When meeting with clients, we ask what is your budget.
At the start of use of formal invitations, they were sold with a price for the invitation, a price for the RSVP, a price for any other enclosures required…some companies still offer this option, and it is important to realize that every piece you add to the invitation suite adds cost. This has evolved over time to designs that meet a one-price option.
Our "book product" is from a supplier we have used from the beginning, which speaks to the quality of the product. They offer a unique design that is a top seller, and the most popular invitation I sell. The best thing about this invitation is that the RSVP is a postcard, reducing paper usage. It is an ingenuous idea of one piece of cardstock that folds, and there are many different design options available.
The second most popular design comes with 5 pieces in the order – invitation, RSVP, Reception card, RSVP envelope and outer envelope – for ONE price! Again, many designs to meet the various themes/styles of a wedding.
There are also elegant invitations with matching RSVP's that follow the original pricing plan, with a price for the invitation and a price for the RSVP. The exception to this style is that the envelopes, both RSVP and outer envelope, are included in the pricing.

We are available by appointment at our studio in Barrie, Ontario.
Call us at 705-727-0020, or email us at info@thingsido.ca to schedule a meeting.